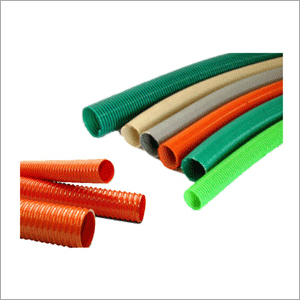 Product Description
Light Duty Hoses
ID

Wall
Thickness

Working Pressure

Bursting Pressure

K/g / Mtrs.

Mtrs.

mm

inch

mm

Kg/cm2

Kg/cm2

0

12

1/2

1.5

10.0

19.0

0.11

30/50

20

3/4

2.0

8.0

17.0

0.20

30/50

25

1

2.5

7.5

15.0

0.23

30/50

40

1 1/2

2.5

5.5

14.5

0.37

30/50

50

2

3.0

5.0

14.0

0.67

30/50

65

2 1/2

3.5

5.0

13.0

1.00

30/50

75

3

3.5

4.5

13.5

1.33

30/50

90

3 1/2

4.0

4.0

12.0

1.77

30

100

4

5.0

3.5

10.0

2.50

30

125

5

6.5

2.5

8.0

4.33

15/18

150

6

7.0

2.5

8.0

4.67

15/18
Recommended Max. Working Temp.: 55.60° C

Variation In ID / OD mm

[ ID 12 to 25 = +/- 0.5 ]
[ ID 40 to 75 = +/- 1.0 ]
[ ID 90 to 100 = +/- 1.5 ]
[ ID 125 to 150 = +/- 2.0 ]
APPLICATIONS :

Delivery and light suction of water.
Conveyance of waste, sludge, slurry, chemicals, and other waste matter.
Delivery of saline water, light acids, alkaline and other chemicals except solvents.
Suitable for the horticulture and marine industries, also used as portable water supply.
Ventilation and Air Condition
Dust Powder Air Suction in buildings, factories, mines etc.
Other Products in 'PVC Suction Hose' category
Get in touch with us